Wednesday, November 29, 2006
2 years liao....
Today, is the 2nd year Loctor and Mrs Mayat registered our marriage.
Yeah.. time really flies by. In a blink, 2 years liao. Heh heh heh..
Well I didn't plan anything special for today as I told Mrs Mayat that we shouldn't be spending too much on these stuff. Nevertheless, Mrs had something in mind and I just let her be.
When I got home... something bad happened. (Will tell later).
So when I opened the fridge, I saw a box from the local bakery. Ah ha.... ! After dinner and sorts, I took out the cake and saw..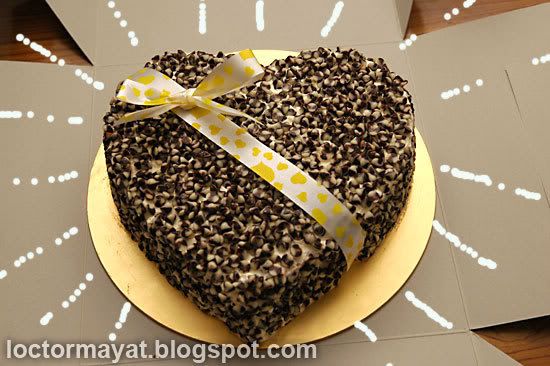 Wah~! So nice la the cake... chocolate chips heart-shaped sponge cake. Mrs Mayat is as sweet as ever. Loctor really lup her so much.
So... what was the bad thing?
Erm... I was quite late from work today as I needed to work on something. And silly me, I was too busy until I had no time to sms her and told her I'll be late.
Unknowingly, Mrs was waiting at the lobby of our condo around the usual time I would be back. And since I was ~30 minutes late, she was quite furious. Alamak..
kekeke... soli Mrs Mayat.... soli soli
Sunday, November 26, 2006
Woa ha ha ha ha ha~!
The new pups :D
Many weeks ago... a stray mummy doggy was pregnant and about to give birth. She searched around the housing estate but couldn't find a place to give birth to her puppies. In the end, the poor pregnant mummy finally found a spot near a house. She lay down on the sand and one-by-one, the puppies were born.
Unfortunately, there were complications during the birth and the poor mummy took her last breath after the 7th puppy was born into this world. *sobs*
With no mother to nurture the young borns, the poor little puppies started to die one by one. By the time the people from the house saw them, 3 have already died while still in their dead mother's embrace. The other four were barely alive. Quickly, the kind-hearted people took the four puppies and drove them to the shelter in Bukit Mertajam.
Loctor's parents are regular volunteers at this shelter and saw these poor four motherless puppies fighting for their lives. As there are hundreds of other dogs and cats at the shelter, the caretaker is unable to spend extra time to take care of them. Hence, Papamayat and Mamamayat carted the four puppies into a box and brought them home. At least, they will be well taken care of by Robert H. Johnson.
Alas.. as one of the four was already too weak, it died in Robert H. Johnson's care. *Sigh* Poor little pup was burried in the garden as its soul went up to heaven to meet up with Brownie the Idiot.
The remaining three pups strived on and finally grew stronger and fatter. When I was there yesterday, they seem to be in better health now. Ahh... good good.
So, enough talking... let me introduce the 3 'survivors':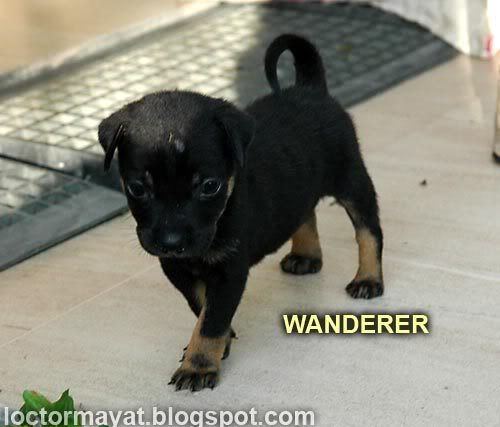 ... and the only female:
'Boss' - Because he always wants to be the first to eat, and is a busybody.
'Wanderer' - Once out from the enclosure and into the garden, he will venture out by himself and pang sai everywhere.
'Ah Girl' - The only sister
Here is Wanderer... sniffing here and there..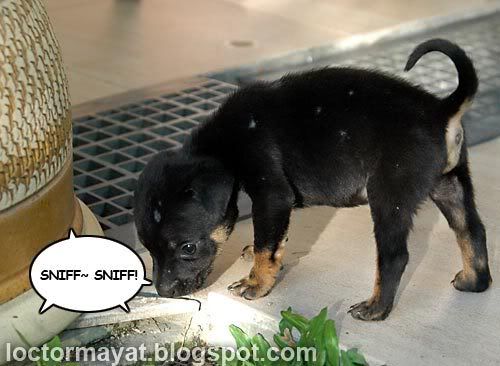 ... and followed closely by Robert H. Johnson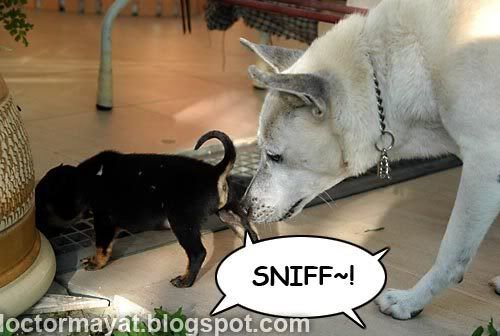 Boss is not as adventurous but he is always within the watchful eyes of Robert H. Johnson: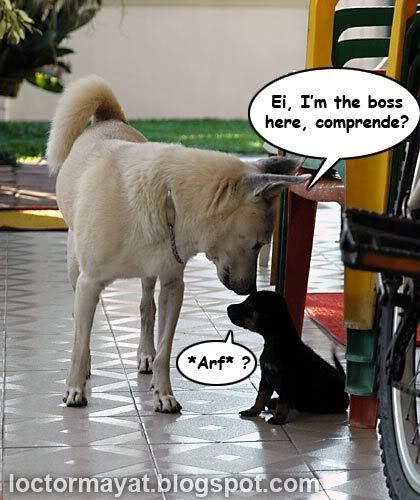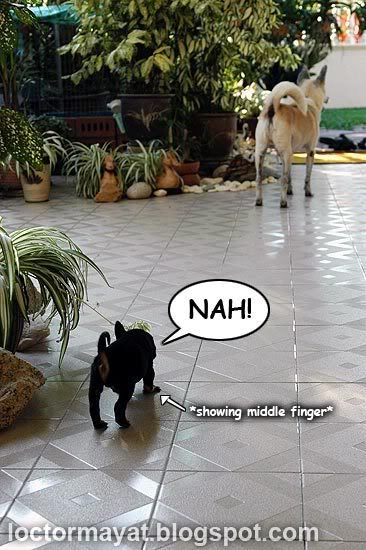 Soon, it was feeding time. Mamamayat gathered them around for a group photo but these little puppies cannot sit still one..
With no momma to feed them, Loctor's parents went to buy a tin of Lactogen baby milk formula just for them. Wah.. damn lucky puppies.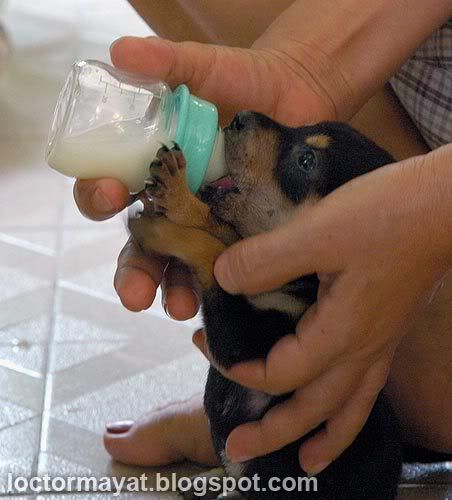 And being babies... few minutes right after their meal..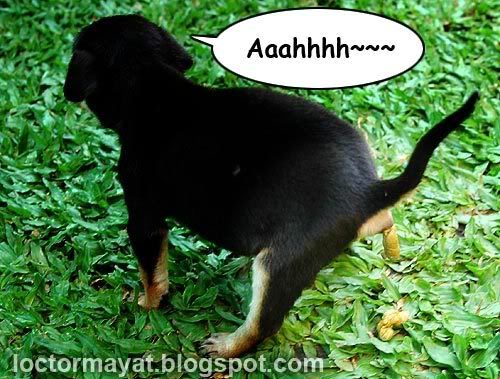 The toilet break..
Yesterday while on the way towards parent's home, Mrs Mayat suddenly need to go to the toilet. Luckilly for her, we were about to reach the St Anne's church at Jalan Kulim. The place is open for the public almost everyday so I guess it's no harm if we 'borrow' their toilet facilities just for a while.
I can't believe my eyes when I see their new building..
Fooo yoh... so big laa!!
So after I parked my car near the administration building, I did a few snapshots of the new building before going to the toilet..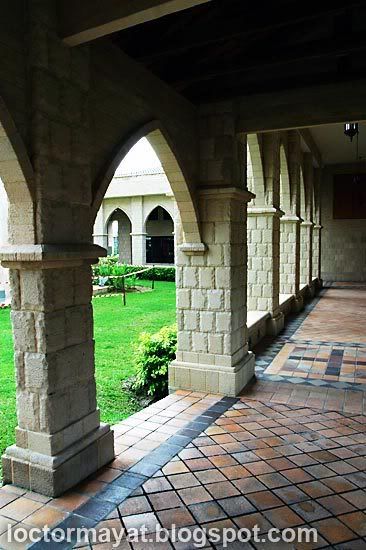 Damn sui~!
This is the path towards the toilet... damn sui! Like Midieval times..
"Excuse me Sire, I need to go the toilet to 小便. May I ask Thee where is the location?"
"That way!"
"Thank you Sire."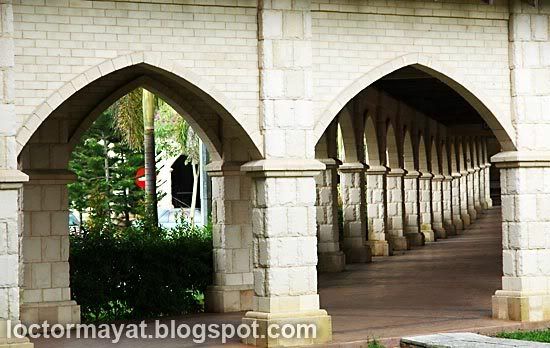 This is the inner part of the main hall. Most of the walls are covered with metal grills. No air conds dude, natural wind!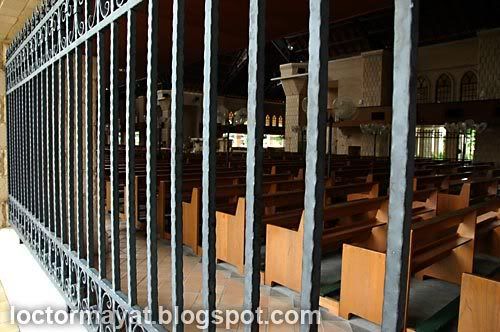 This is what I think is a Bell tower.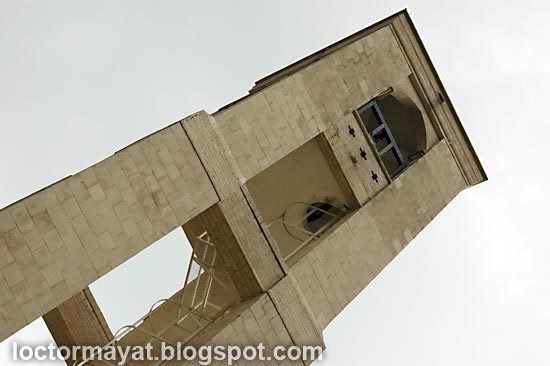 And this is the main hall. Wah lau!
After looking around more, I noticed that the hall is built in the shape of a cross. Woah... ho liao!
I started to rain lightly so we head back to the car continued our journey..
Saturday, November 25, 2006
I got Parked...
Still busy playing with the new features of the camera.. and few days ago, my new Parker ballpen arrived from Bonuslink. First thing that came to my mind is that I wanna do a Lanatir on it :D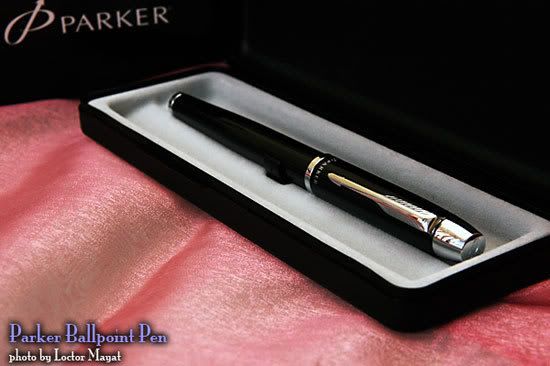 Aaah..... not as good as he is but it sure is fun taking these shots with the remote flash thingy.
If you appreciate these shots, please do hop over to
Lanatir's gallaries
. See until your eyes pop!
Friday, November 24, 2006
Testing out....
Finally, my new camera body & high speed memory card arrived safely from ShaShinKi. Took about 50 test shots and finally got chance to try out that wireless flash commander thingy.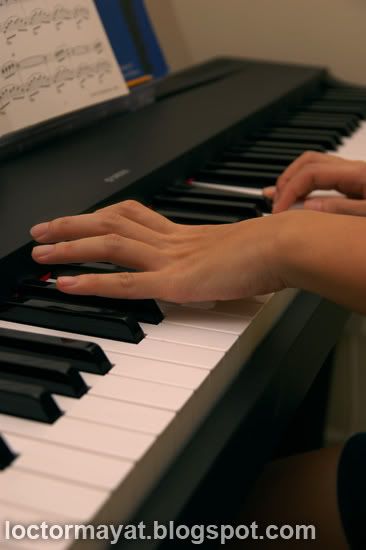 Everything is working properly and good.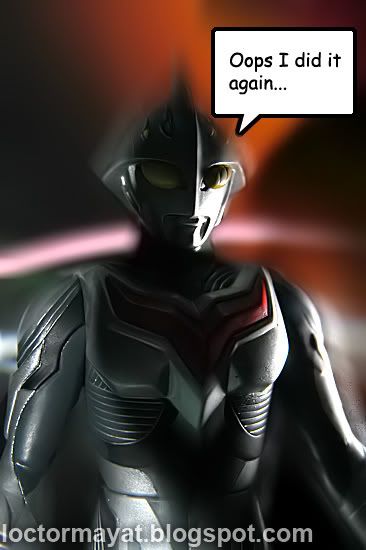 There are more features as compared to my D50 but I guess the learning curve is not very steep. Probably after 1 week I'll be all used to the new features liao.
Tomorrow --> more puppies :D
Woa ha ha ha ha ha...
Sin City Doggy
Bloodbath
Wednesday, November 22, 2006
Lomography is FUN!!!
Lomography is a commercial trademark of Lomographische AG, Austria for products and services related to photography. The name is licensed from a former state-run optics company LOMO PLC in St. Petersburg, Russia. The 35 mm LOMO LC-A camera employed an unusual lens which produced large amounts of distortion at the edges of the image whilst keeping the center sharp, and was promoted by businessmen from Austria with international gallery shows.
Lomography emphasizes casual, snapshot photography. Accidents such as over-saturated colors, lens artifacts, and exposure defects are rehabilitated to produce swirly, abstract effects — a trait emphasized by practitioners. Others use the technique to document everyday life, because the small camera size and ability to shoot in low light encourages candid photography, photo reportage and photo vérité.
....
Okay.. I copy and paste the above from the online encyclopedia...
As for the pics...
... as if... I know what I'm doing..
But it's FUN!
WOa ha ha ha ha ha ha ha ha....
Latest Magazine -- "PENIS"
Sunday, November 19, 2006
Loctor Is Down!!
Saturday, November 18, 2006
And what's new today?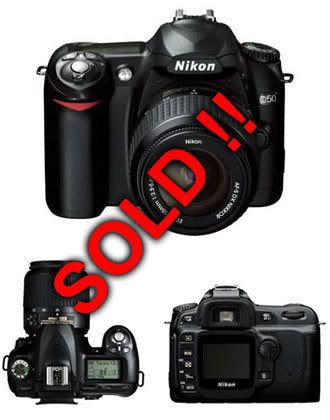 Friday, November 17, 2006
What's new?
Monday, November 13, 2006
Under the Bridge
So last week I was chatting with
The Webster
and suddenly thought of wanting to shoot some Penang bridge photos, from the underside. After seeing his bridge photos before I've always wondered how can I get there and shoot the same pics too.
After going to the market and dropping off Mrs Mayat, I rushed back home, threw everything into the fridge, grabbed my gear and head to the island. Being not so Malaysian, I arrived at 9:00am sharp. Ha ha ha... Webster wasn't there yet so I began shooting myself first. After 10 minutes or so, he arrived.. and the shooting begins.
Click Play below to listen to Red Hot Chili Popiah's "Under The Bridge" as you look at my "Under the Bridge" Series of Photos :D Woa ha ha ha...) Enjoy !
Sometimes I feel Like I don't have a partner
Sometimes I feel Like my only friend
Is the city I live in The city of angels
Lonely as I am Together we cry
I drive on her streets 'Cause she's my companion
I walk through her hills 'Cause she knows who I am
She sees my good deeds And she kisses me windy
I never worry Now that is a lie
I don't ever want to feel
Like I did that day
Take me to the place I love
Take me all the way
It's hard to believe That there's nobody out there
It's hard to believe That I'm all alone
At least I have her love the city she loves me
Lonely as I am Together we cry
I don't ever want to feel
Like I did that day
Take me to the place I love
Take me all that way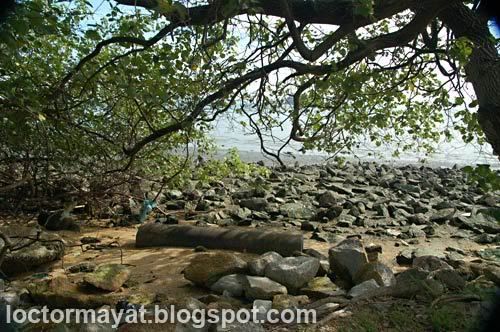 Under the bridge downtown
Is where I drew some blood
Under the bridge downtown
I could not get enough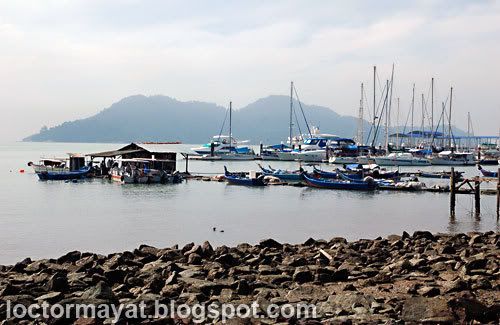 Under the bridge downtown
Forgot about my love
Under the bridge downtown
I gave my life away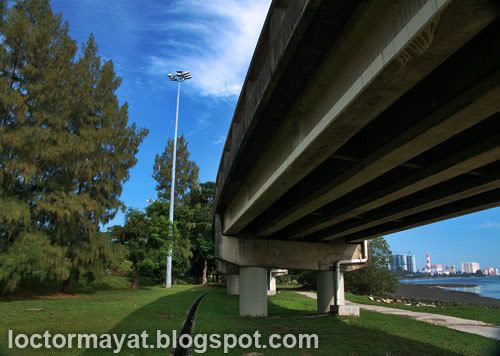 ~ End of Series ~
By the way, according to Webster, this place is famous for this:
With evidence: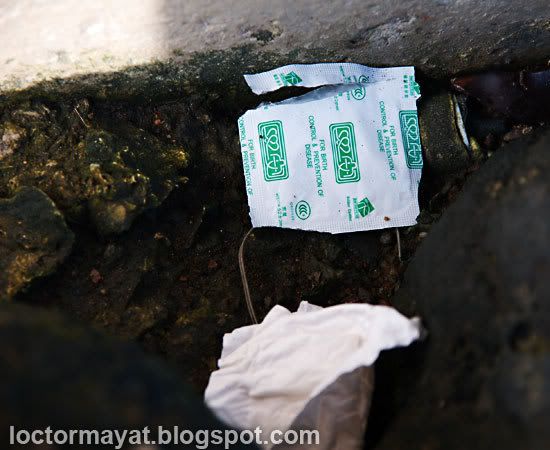 WOA HA HA HA HA~!
Saturday, November 11, 2006
My Saturday Morning...
I was spending my whole morning taking a shoot-as-you-walk trip in Penang. For now, here is the sneak preview..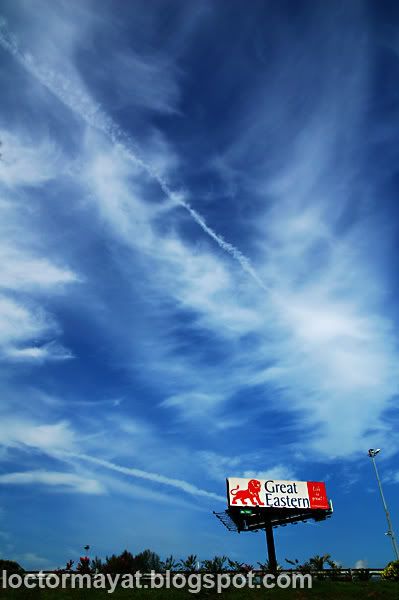 Il qui achète, doit utiliser. Personne d'autre et stupide.
*ask DingYing to translate for you :D
Friday, November 10, 2006
LoctorMayat's guide to bird photography on a budget....
After you get into serious photography, one of the subjects that you may get addicted to is none other than shooting birds, or 'birding' as it is more commonly known. For the normal beginners, a trip to the local bird park in town is more than enough to produce stunning bird photos.
However, for those who are really serious into birding, nothing beats going into the thick jungle, tracking through the GPS navigation system and finally arrived at the nesting place of some rare birds on top of the trees.
Of course, you need expensive gears like the one shown below:
*photo from TseChien's pbase website here
This path of birding is not for the faint of heart. A Nikkor 300mm F/2.8 VR alone costs about half of a Kancil 850EX's price. Hence, many are disappointed because of the costs involved.
HOWEVER...
There is always a solution for every problem! :D
Nowadays, almost everybody owns a mobile phone with built-in camera features. You will be surprised that your camera phone, will be one of the best tools for birding.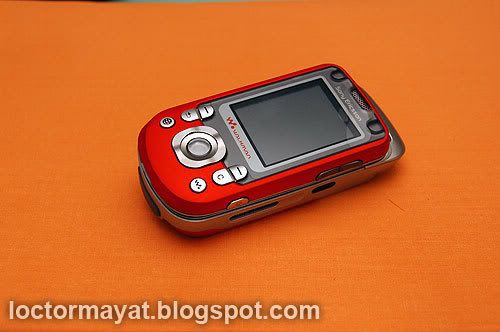 So what you need to go... is to secure your camera phone to the trusty tripod first. Since no camera phone is built with a tripod screw mount, you have to improvise by tying it to the tripod head with any means necessary. In my case, I use a strong string as shown below: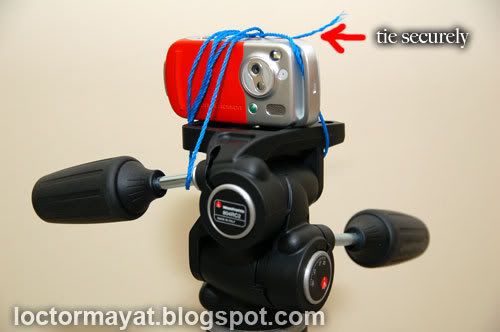 Make sure you tie several knots to ensure that whenever you tilt your tripod head, your camera phone won't fall off the tripod: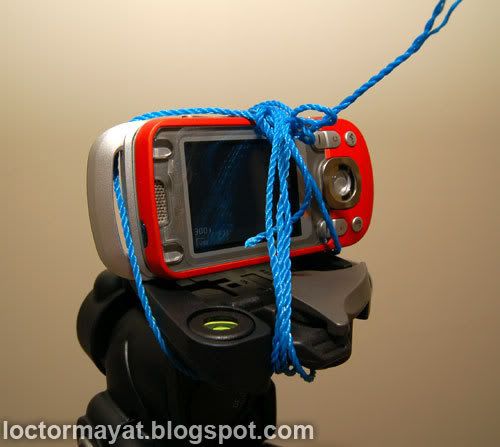 With that done, you select and enable the camera function on your phone.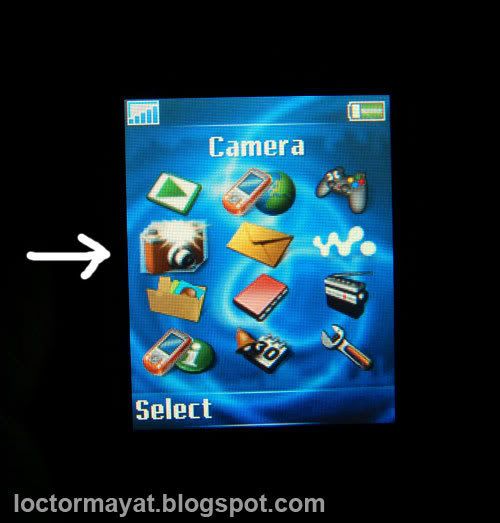 Now, you're ready to begin your first ever birding!!
There are many birds out there which like to perch on the ledge of your home windows. With the windows closed, the birds won't know you're watching it closely especially the glass is tinted.
With that, take your setup and position it as close to the window as possible. Then, aim the camera phone at the bird you want to shoot.
Set the self-timer of your camera phone to avoid camera shake and voila! Your first ever birding photo!!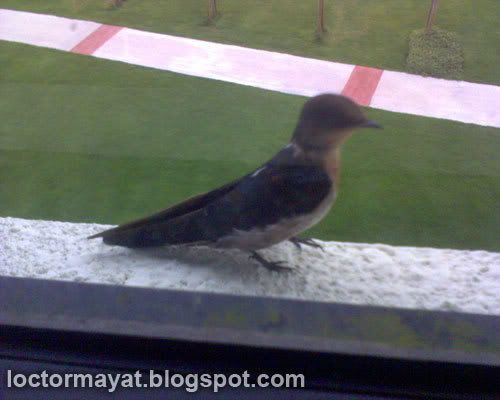 The best part of this low-budget birding technique is that you can shoot the same bird over and over again and it will still be there.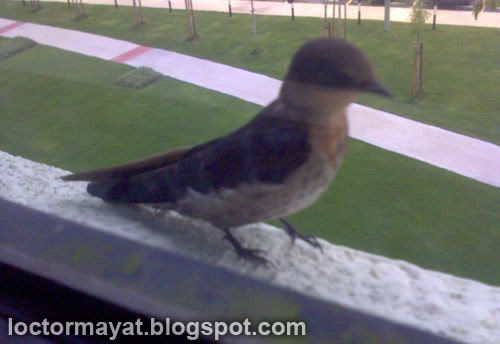 Sometimes, if you're lucky like me, you can even shoot a Big Bird!
Now, go out and enjoy your bird photography!!!
p/s:
WOA HA HA HA HA HA HA!!!