Saturday, December 02, 2006
The Malaysian Online Camera Shop
When I was thinking of where to get my new camera body, I was juggling between the usual camera shop that I always go to in Penang OR buying via online.
The prices for both is just a mere RM50 difference but if you want to say cheap, also cannot lah. Both about the same. Anyhow, I made up my mind to order my camera directly from
Shashinki
website, the Malaysian Online Camera Shop:
*click on Logo to enter Shashinki
The website was launched 1 year ago by a Malaysian who currently resides in Japan. Hence, some of the stuff sold in Shashinki are actually sourced from Japan... like my camera ;)
The company is a Malaysian registered company based in Ayer Tawar, Perak. From this office, the stuff that you ordered will be sent via Poslaju.
If you go through the website, there are lots of camera-related stuff on sale. A plus side is that you can check out the prices in a few currencies. You need to register yourself at Shashinki (and it's free) before you can make your order.
Payment wise is very flexible. You can either write a cheque, perform cash deposit, Maybank2U (or other online banking site) or pay with your credit card via PayPal service.
Now... If you would like to pay via PayPal. Please bear in mind that you will be paying in
USD ONLY
. The best method IMHO is to pay via direct deposit or online banking. These times, I wish I have a Tigerbank account so I can use that Maybank2U. It's just not very safe to carry ~RM2k++ of cash for cash deposit. Heh heh heh...
Now, what can I say about customer service? One word -->
EXCELLENT!
The site owner replies all your enquiries very fast and he's very helpful too. Sometimes, you might get some free gifts from him too! :D Woa ha ha ha... I got a free Matin neck strap together with the camera. Stim nyerr..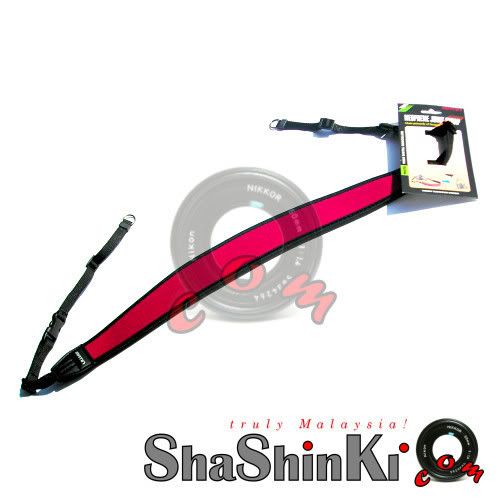 So after making your payment. You will get confirmation email from Shashinki and also the status of the shipment. If no stock they will let you know when the stock will arrive and when are you going to receive it. You have yourself to blame for not checking your email :D For things that are in stock, usually you will get it the next day via Poslaju. If not, it's usually within a week or so. Very good man!
As a comparison, last year I made an online order from the "
brand of bags that I like
" store. After my payment has been confirmed, there is no news at all for 2 freaking weeks. Not even an email or a phone call. Tiu!! So after emailing them, only I found out that they have no stock! Man I was furious! Immediately I cancelled my order and would never buy from their online store again.
So back to Shashinki...
When you receive your goods via PosLaju, you will have peace of mind because these guys really take the effort to wrap your stuff carefully. My camera box is within a bigger box which is filled with styrofoam, plastic bubbles, pop-pop wrappers (ha ha ha... don't know what to call them). Your box won't be damaged man!
Aah... bear in mind that if you buy a camera from Japan, you will get everything in Japanese language. Ha ha ha... No worries, the English version of the user manual is just a download away.
I admit that some of the prices in the website are quite expensive as compared to the shops. Well, bear in mind that if you buy from Shashinki, you do everything from the comfort of your own home right in front of the PC. With the exception that you may need to go to the bank to deposit the $$$. So, don't be so
kiamsiap
laa.. okay?
In conclusion
, Loctor Mayat highly recommend Shashinki.com to you guys and girls who like to get your camera needs. If you don't see what you want in the website, just contact him! :D