Thursday, November 02, 2006
Review: Manfrotto 190PROB & 804RC2
As most of you know, I got a new tripod last weekend: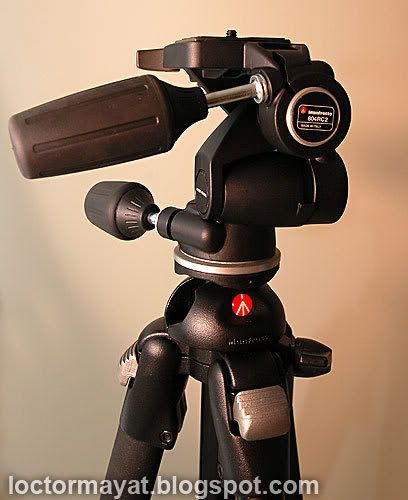 So today I took some time off my busy schedule and did a brief review on the performance of the tripod:
Manfrotto, from Italy, is well-known for it's quality, strength and durability by professional photographers and not-so-professional photographers (also known as
wannabes
) all around the world. They're heavy, sturdy and will last a lifetime if you take care of it properly.
So the 190PROB legs and 804RC2 pan and tilt head I got came with the specification that it could withstand a total weight of 4KGs.
To test this out, I took out my professional camera complete with lanyard and fixed it on the Manfrotto:
As can be seen, what was claimed in the specifications was true after all. The camera didn't shake or rattle even with some strong winds blowing from the windows.
One thing that scares me is when you adjust the position of the camera to portrait orientation. For el-cheapo tripods, the tripod head may not be able to support the weight of the camera & flash and will break. I'm sure you wouldn't want to be crying your heart out after realizing the consequences of using a RM50 tripod to support a RM3k++ camera.
So I adjusted the 804RC2 head to portrait orientation and locked the screw.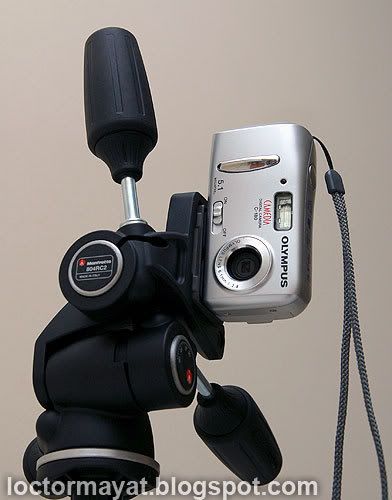 Wow! As can be seen from the photo above, the Manfrotto handled it with ease. The camera was held in place firmly and securely.
One big problem of el-cheapo tripods is that they aren't really helpful when you want to shoot macro photos. Usually, they're about 1-2 feet tall even with the legs all retracted. This makes focusing real close to ground level a problem for those who doesn't have a long macro lens.
The Manfrotto solves this with ease by allowing you to remove the center 'spine' and fix it horizontally. I tried it on my heavy professional camera and now I can shoot macro photos at a level closer to the ground. Worms, cockroaches and grasshoppers, HERE I COME!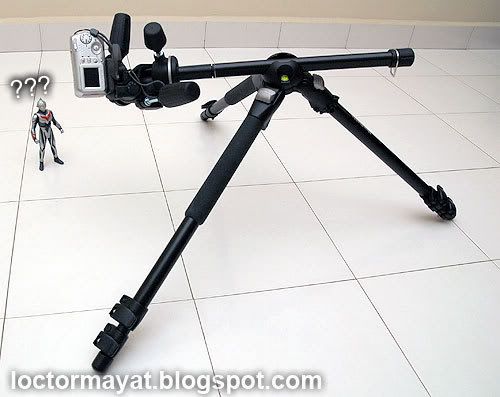 So in conclusion, do I recommend the Manfrotto 190PROB & 804RC2 tripod/head?
Of course!
~ end of review ~