Thursday, October 26, 2006
The return of the Stim Man (Part 1)
KL.. as usual... is always good to mee. Each trip to KL sure will leave me with memories that I'll remember for life.
So, I left Rumah Mayat at 6am sharp on Wednesday. I was still rather sleepy as I didn't sleep well the night before. Something about long distance travel always cause me
erectile dysfunction
the-night-before insomaniac problems.
So I reached Bandar Utama precisely at 10am. Woot! Woot! After that I rushed to the toilet at Centrepoint as fast as I could to pang sai. Foooh~! Stim sekali.
Not long after that my friends from Photomalaysia started arriving and we all adjourned all the way to Klang to have their famous Bak Kut Teh. We came back to BU after that so that one of them could help me to get to my lodging for the night... Hotel Armada :D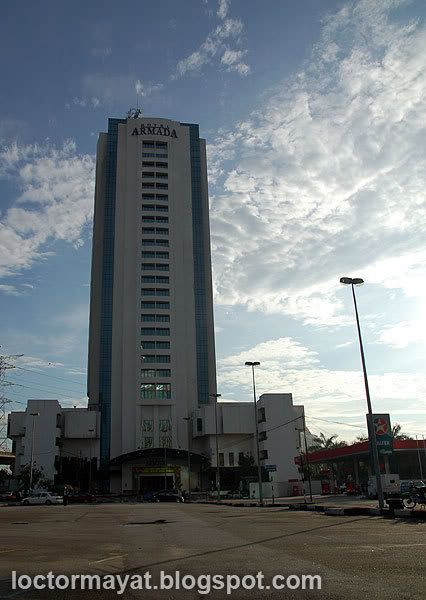 I refreshened up, changed and took the train to KLCC :D
Then.. I came back immediately as Crumpler store was not open. Damn it...
So I took my rest and luckilly managed to catch some sleep. During the evening, I met up with all those real nice guys from Photomalaysia at some cafe nearby...
Okay the company was great... as for the food and drinks........
really really....
*
UAAKKKK
*... the Teh O Ais Limau.... *
UAAAAAAAAAAAAAAAAKKKK
***
Around 11pm, I bid my farewell to the guys and walked back to my hotel as I need to wake up early to pick up Mrs Mayat from Klang bus station. As I closed the lights in the room, I realized that one of the wall lamps can't be turned off.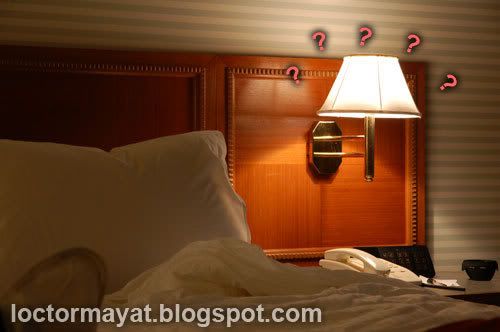 So I followed the power cord and found out....
WAH LAU
!! Ha ha ha ha..... 4 star hotel woh~!!!
Nevertheless, the room was too cold anyway (because the air cond temperature dial has no effect at all) so I took out the key card in order to cut off everything in the room. Aaah.... slept soundly after that.
... to be continued tomorrow