Sunday, October 15, 2006
The replacement for "Error 404"
So I was happily surfing the net and scratching my balls when Maniac from
Fotokrazy.com
messaged me asking me for help.
So apparently he wants to replace the boring "
Error 404
" page you see everyday...

So I thought for a while...
The theme is '
not found
'...
How do I cam-whore to fit the theme?
Hmmm.......
Few stimming seconds later a spark of idea came and I quickly took out my gear from the drybox, did a few shots, adjusted exposure a little, and did more test shots until I was satisfied.
Then.. I uploaded the photos to my Mac and began photoshopping. After fully satisfied with the end result... I uploaded the photo to the net and showed Maniac.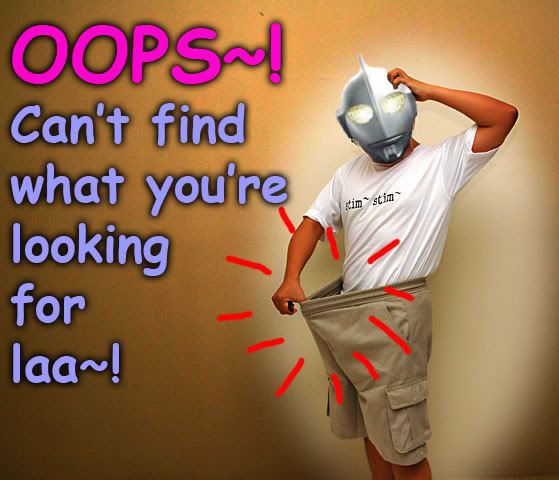 Woa ha ha ha ah ha ha ha ha ha~!
Maniac liked the photo and it's now the official Error 404 page for Fotokrazy. You can view it
here
.
The whole thing took less than 20 minutes and Mrs Mayat said that I'm crazy.
Well... because I am.
WOA HA HA HA HA HA..
Anyway... please do visit the website. They're a very active bunch there. *thumbs up*