Tuesday, September 05, 2006
I'm baaack~~!
Wooot~!
It was some trip I had for the past 3 days. Of course, the main intention is to attend Mrs Mayat's convocation in UTM, Skudai but I'm glad to be able to meet up with a few good buddies over there in the southern part of Malaysia.
So on convocation day, me and Mrs Mayat woke up at blardy 5am. The reason why is because registration starts at 6:45am and there might be not enough car park that is within walking distance. Ugggh...
So after getting everything done, we waited at the designated area for Mrs Mayat's course which happens to be the front of the Student Affairs building (Bangunan H.E.P)
Being the typical Malaysians that we are, majority of the people came in late. A bunch of people arrived which includes the grandpas and grandmas, parents, siblings, friends, boyfriends, girlfriends, etc.
Only a few people belong to the '
husband
' or '
wife
' group :D Luckilly that day nobody asked me whether I'm Mrs Mayat's father. Ha ha ha ha... it happened before. Damn!
So after everybody packed themselves into the Dewan Sultan NasiKandar, the ceremony officially started.
17mm, F/2.8 @ ISO1600
On that session, I think roughly more than a thousand degrees were handed out by the Pro-Chansellor. Yikes... damn sien man. In addition to that, guests are not allowed to leave the hall until the ceremony is over.
I'm lucky enough to get a good seat where I can get some decent shots. Also, I think I saw someone familiar getting his degree as well.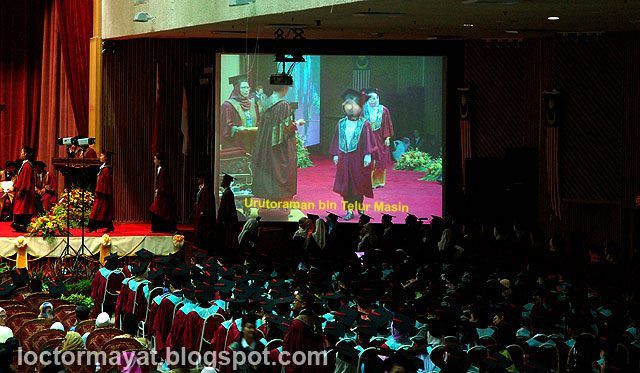 70mm, F/4/5 @ ISO1600
No... I don't have 70-200mm F/2.8 VR.
Anyway, after everything is over. We headed for lunch and got some sleep. 5am!! jeeez....
Later that day, I took the taxi to Danga Bay to meet up with a friend. We ate the famous Laksa at Water Works and he brought me over to Taman Merdeka.
Ummm.... seriously nothing really interesting there but they do have their own Twelve Apostles though..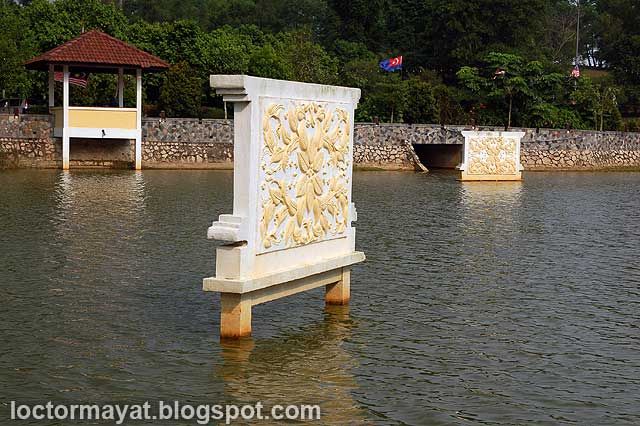 No idea what it is for.
In the evening, we met up with two more buddies and headed to a place known as Permas (or something like that I can't really remember the actual name) where the patrons get to eat nasi lemak on a platform on the sea. Ha ha.. quite cool.
The food is nothing to shout about but the experience is something really different. You can get to see Singapore while chewing your rendang daging :D Woa ha ha ha...
So, today I'm back home and Mrs finally saw her surprise present which I got for her... which happens to be that Yamaha P-70 digital piano. WOot woot....